COMPANY
ABOUT US
With an extended background in the field, and experience based on work and training, Marine Surveyors provide honest and professional services.
The company aims at the maximum satisfaction of clients. The staff is made up of experts in each area, with skill and training to give real solutions to real problems.
Marine Surveyors answer and prepare the clients, not only for current needs but also for future events. The success of the company lies upon the success of the clients.
HISTORY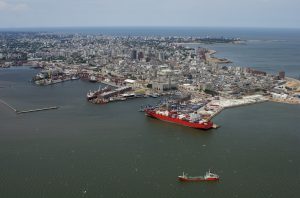 Our office was founded at the Port of Montevideo on July 15, 1949, by the Naval Engineer Pablo J. Moore, who after completing his studies in the MIT of Massachuset, USA and retired from the Uruguayan Navy, received his first appointment as a non-exclusive surveyor from the Classification Society American Bureau of Shipping.
Months later, in 1950, the Naval Engineer Carlos Ventura and in 1960 the Commander and Master Marine Pedro Queheille completed the stuff of this office under the name of "Pablo J. More and Associates".
In 1979, the office was renamed as "MARINE SURVEYORS", at that moment with several nominations as Non-exclusive surveyors from most of the classifications societies (Det Norske Veritas, Bureau Veritas, Germanischer Lloyd, Registro Italiano Navale, Polish Register of Shipping, Nippon Kaiji Kiokai, Lloyd Register of Shipping), official surveyors from several flags (Bahamas, Malta, Barbados, Honduras, Panama, Belize) and attending the local correspondents of Salvage Association, Lloyd´s Agency, Comisionado Español Marítimo, Underwriters for Hull and Machinery and P&I Clubs.
In 2006 Branch office in the Port Nueva Palmira, southern port of the Hidrovia Paraná-Paraguay, opened.
During that's 70 years in the maritime business MARINE SURVEYOR GROUP was growing adding more associated surveyors conforming a multi-disciplinary team and is composed by different companies, Marine Surveyor´s SRL attending marine services as always and DP Marine Surveys becoming as a international loss adjuster office.
Some partners have integrated different national and international organizations as: Independent Loss Adjusters Association, Pan-American Institute of Naval Engineering, Camera of Surveyors, Uruguayan Association of Maritime Law.
NATIONAL & WORLDWIDE SERVICE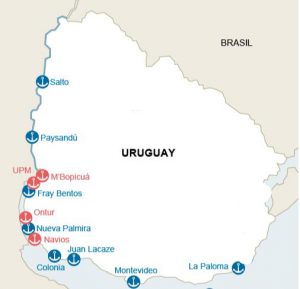 We have built an International professional network, with a constant flow of services worldwide, offering high quality of services around the world to our clients. Currently the company has its centre in Uruguay. We have offices in the country capital, Montevideo, and in Nueva Palmira, southern port of the Hidrovia Paraná-Paraguay. However the service offered by Marine Surveyors goes beyond, attending all commercial and yachts ports in Uruguay (Salto, Paysandú, Mercedes, Fray Bentos, Colonia, Sauce, Buceo, Priapulids, Punta del Este and La paloma.
ETHICS & OBJECTIVES
The philosophy of Marine Surveyors has foundations on the following values:
• Giving solutions: Technical knowledge applied to the needs and the real possibilities of clients.
• Speed: Clients require fast answers, and this implies a commitment Marine Surveyors make on a daily basis with each client.
• Integrity: The company rules actions according to the legal system but also regarding what we consider ethical and responsible.
• Objectivity: It is one of the aims of the company and in this sense, there is special care in delivering accurate reports about causality, together with an impartial analysis.
• Accuracy: We deliver full, and detailed reports in a coherent and easy to use format.
• Transparency: Marine Surveyors aim at having an honest relationship with clients, providing all the relevant information in order to facilitate decision making.